Beauty & Self
Books & Music
Career
Computers
Education
Family
Food & Wine
Health & Fitness
Hobbies & Crafts
Home & Garden
Money
News & Politics
Relationships
Religion & Spirituality
Sports
Travel & Culture
TV & Movies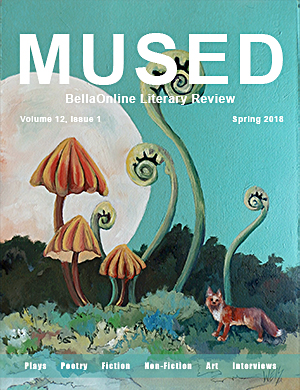 It can seem sometimes as if our world is whirling faster than we can keep up with. It can become overwhelming. Exhausting.

A balm which rejuvenates is to explore the creative efforts of individuals around us. To begin, turn off the noise and clatter of the world at large. Take a deep breath and instead focus on connecting with one fellow human being who presents their jewel of a thought to you. Examine it mindfully. Consider its meaning. Soak in the moment with this one human. Then connect with another. And another.

Enjoy the Mused Spring Equinox 2018 Issue



Five For Fun In Skagway, Alaska
Cruises - Nancy Schretter, Editor

The little town of Skagway is a popular port on Alaska cruises, offering attractions for nature lovers, adventure seekers and history buffs. If you're visiting Skagway on your next Alaska cruise, here are five great activities to consider.




We Love Our Scents
Fragrance - Juliette Samuel, Editor

We love our scents, our fragrances and aroma's. Some of our natural resources that provide essential oils to make them are being threatened with extinction. Take a look a three that top the list and alternatives that can be used instead.




Natural Alternatives to Cleaning Your Homes
Ethnic Beauty - Juliette Samuel, Editor

You put out energy, effort, time and money to make sure you've got the right beauty products for healthy clean looking skin. What about your living environment? Did you know that your cleaning products could be contributing to some of you skin irritations and breakouts?




Who Whispers in Your Ear ?
Christian Living - Lynne Chapman, Editor

Who do you listen to? Is is the father of lies or the Creator of the Universe?




The Civilian Conservation Corps in Florida
Florida - Georgiana Kurtz, Editor

The Civilian Conservation Corps (CCC) was created during President Franklin D. Roosevelt's first term when the U.S. economy was suffering in the Great Depression. Its purpose was to put unemployed men to work doing manual labor restoring natural resources. There were 86 CCC camps in Florida.




Trifetta and Tricolore Garden Ornamental Peppers
Landscaping - Connie Krochmal, Editor

Trifetta, Purple Flash, and Tricolore Garda are all wonderful ornamental peppers for the home garden.


| Google+ |
E D I T O R R E C O M M E N D E D
The 500 World´s Greatest Golf Holes


This is a great coffee table book with photos and narrative describing some of the best golf holes in the world. Makes a great start for your bucket list of golf courses to visit. Published by Golf Magazine.
The Killer Angels by Michael Shaara


Best historical novel ever, and I don´t even like most historical novels. Epic and unforgettably intense! Among other things, reading this will teach you how to hook your readers through writing strong character emotion.
Jesus of Nazareth


Award winning film produced by Franco Zeffirelli, depicts the life of Jesus Christ from birth to resurrection. Originally made for television in 1977, this set is available on DVD or VHS. It´s been a few years since I last watched this awesome depiction of Christ´s life, but it still remains one of my favorite.