Beauty & Self
Books & Music
Career
Computers
Education
Family
Food & Wine
Health & Fitness
Hobbies & Crafts
Home & Garden
Money
News & Politics
Relationships
Religion & Spirituality
Sports
Travel & Culture
TV & Movies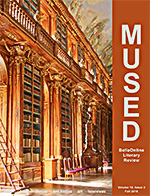 The autumn equinox, that balance point of light and dark, is closely tied to the moon. In China the Moon Festival happens around the autumn equinox, celebrating gratitude and the warmth of good friends and family. This year it was Sept 15th. Our last eclipse of 2016 was a penumbral lunar eclipse on Sept 16th. It fell in conjunction with the full harvest moon, also a symbol of thankfulness and appreciating those who care about you. The autumn equinox is a perfect time to add to those celebrations. It's a wonderful moment to treasure all we have and to share warmth with those who support us.

Autumn Equinox 2016 issue of Mused

White Mulberry
Landscaping - Connie Krochmal, Editor

White mulberry has been grown for over five thousand years as food for silkworms in China. It has been introduced to many other parts of the world.




Selling Vectors to Microstock Sites
Digital Art and Design - Diane Cipollo, Editor

In this tutorial, we will continue discussing how to clean up your Illustrator vector files for submission to microstock sites. Most of these sites have the same submission requirements and guidelines. Below is a summary of the most important issues.




Try zummus
Allergies and Colds - Sheree Welshimer, Editor

You love hummus but legumes are taboo; then try zummus, made with zucchinis




Age No Longer the Best Mortality Predictor
Geriatrics - Patricia Villani, MPA, PhD, Editor

Up until now the 'medical model' has depended upon the usual checklist of older adult illnesses to predict health and mortality. An important new study shows how we need to change our thinking about what is necessary to live a longer life. Learn all about it here!




Laneige Water Sleeping Mask Review
Body Care - BB Lee, Editor

Laneige Water Sleeping Mask Review




The Dating Game Serial Killer
Crime - Vance R. Rowe, Editor

Rodney Alcala was a serial killer who once appeared on the Dating Game television show. He won the show but after the woman who picked him got to talk with him afterward, found him to be creepy and declined to go on the date. This had probably saved her life.


| Google+ |
E D I T O R R E C O M M E N D E D
Best Sweepstakes Newsletter Subscription


Best Sweepstakes is an excellent way to keep up on the latest sweeps and contests via online, snail mail and text entry. It´s been around for years and is a trusted newsletter among sweepstakers.
Stranger Safety Video


From Julie Clark, the mom and creator of the Baby Einstein series stars as the super energetic safe side chick in her highly entertaining, yet kid-sized educational video to teach children about strangers. Julie Clark, along with John Walsh the host of Americas Most Wanted Show have created a video packed with sound advice on Stranger Safety for kids age 2-10.
The Weiser Field Guide to Cryptozoology


The Weiser Field Guide to Cryptozoology by Deena West Budd includes information, interviews, and stories about forty different cryptids seen in various places all over the world by credible eyewitnesses like policemen, rangers, and doctors. Readers will learn where and how to find flying humanoids, hairy humanoids, giants of all kinds including rabbits, bats and spiders, goblins, and vampires.