Beauty & Self
Books & Music
Career
Computers
Education
Family
Food & Wine
Health & Fitness
Hobbies & Crafts
Home & Garden
Money
News & Politics
Relationships
Religion & Spirituality
Sports
Travel & Culture
TV & Movies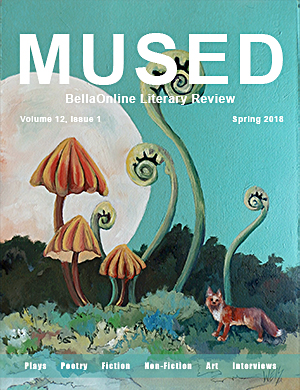 It can seem sometimes as if our world is whirling faster than we can keep up with. It can become overwhelming. Exhausting.

A balm which rejuvenates is to explore the creative efforts of individuals around us. To begin, turn off the noise and clatter of the world at large. Take a deep breath and instead focus on connecting with one fellow human being who presents their jewel of a thought to you. Examine it mindfully. Consider its meaning. Soak in the moment with this one human. Then connect with another. And another.

Enjoy the Mused Spring Equinox 2018 Issue



How to Create Patterns in Illustrator
Digital Art and Design - Diane Cipollo, Editor

Creating patterns in Illustrator is my version of doodling. It's easy to build a seamless repeating pattern in Illustrator using just about any repeatable motif, from a simple circle to a more complex motif. In this tutorial, we will build a simple pattern of repeating circles in Illustrator.




Are Some Recasts Movie Mistakes?
Movie Mistakes - Isla Grey, Editor

Some of our favorite movie characters have been recast by other actors and actresses through the years. Which recasts were movie mistakes?




Product Review: Laundry Detergent
Natural Living - Katherine Tsoukalas, Editor

Most people don't realize it, but typical laundry detergents are loaded with chemicals. Does this product work well enough to replace what you already use? This review will explore the Seventh Generation Laundry Detergent Packs.




Improve Fertility With A Mediterranean Diet
Infertility - Hannah Calef, Editor

A Mediterranean diet has been proven to boost fertility, learn how to adapt your diet to a more Mediterranean style to boost your fertility naturally




Scandal - The Final Season
Prime Time TV - Maria Brown, Editor

After six long seasons, Scandal (produced by Shonda Rhimes) is concluding with it's seventh season. We have seen Olivia at her best and her worse.




Decision Points are Key to Great Productivity
Life Coaching - Leah Mullen, Editor

Don't know what to do next on your long to-do list? Author of Two Awesome Hours offers advice on how to choose wisely for best results


| Google+ |
E D I T O R R E C O M M E N D E D
Fall in Love With Your Feminine Power


This 8-week DailyOm online course incorporates meditation, energy healing, and women´s energetics work to help you heal, empower and awaken your connection to your feminine energy body. It includes print materials, video, and guided audio meditation. No prior meditation or energy work experience necessary. Embrace your full power, health, joy, and spirit!
Addicted to Stress by Debbie Mandel


A Woman´s 7 Step Program to Reclaim Joy and Spontaneity in Life (Hardcover) In this highly original program for stress reduction, stress management expert and radio personality Debbie Mandel explains that women who are constantly stressed out have forgotten the dreams of the free-spirited girl living inside them before they became somebody's wife, mother, or workplace colleague.
TomTom ONE 130s GPS


Looking for a great GPS unit for your car? The TomTom ONE 130s is a great, moderately priced GPS system with text to speech capabilities. Spoken street names and TomTom´s EasyPort mounting system make this a terrific GPS unit!